Did you know that Shannon is made in France, produced in Singapore? The Frenchman in the photo is Dr. Emperaire Jean-claude who did the IVF for us! Shannon is actually a test-tube baby! He was the one who made our dream come true. We are really blessed that we succeeded on the first attempt of IVF! We went to his clinic last Saturday to thank him and at the same time, enquired about our 6 frozen embryos. Memories of " The Making of Shannon" came back vividly after the visit...Read on if you are interested... hehe...but abit long lah..
We went through lots of test and blood drawings when we were trying to conceive before we were referred to Fertility Clinic in 2004. After more screening, the procedure started...



** Nasal Spray at certain hrs everyday for about 2 weeks, which will temporarily suppress the pituitary gland so that the stimulation of my ovaries can be more controlled.
** Then began another 2 weeks of injections using follicle stimulating hormones to increase the number of follicles developing in the ovaries.
** After a few ultra scans and blood tests, HCG was the final injection and that initiates the final stage of maturation and timing of the egg retrieval.
** The egg retrieval procedure was a nightmare to me. Can you imagine I had gone thru the following procedure without Anesthesia!!

"This method by which the eggs are retrieved at PFC is an ultrasound directed Needle Aspiration. The ultrasound probe with a needle guide is placed in the vagina, which allows an aspiration needle to be INSERTED through the upper portion of the vagina directly into the ovary. The ultrasound image allows the physician to accurately guide the needle into each follicle for aspiration or "suction". As the fluid is aspirated, the egg is released and collected in the laboratory. The retrieval process takes approximately 15-30 minutes."
I couldn't scream during the procedure, I had to hold my breath, bite my lips, clenched my fist the moment when one follicle was aspirated. I had 11 follicles at that time!!! 11 times of Needle Aspiration!!! My tears rolled down uncontrollable due to the pain and continued for quite awhile after the whole procedure.

** After the eggs were retrieved, they started the process of fertilization (the union of the sperm and egg). The fertilized eggs are now called embryos. We had 8 embryos fertilized successfully. After 5 days, I had 2 embryo transferred. This procedure was fast and painless. However, I would need to have a weekly injection on my butt for 3 months to maintain the progestrone level in my body.

A week after the embryos was transferred, we were relocated back to Singapore and I was confirmed pregnant with one baby the week after next.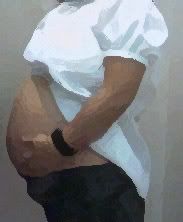 The pregnancy journey was considered smooth for me except having Amniocentesis. I had high risk (1 out of 99) having a Down Syndrome Baby after the NT Scan around 14 weeks, thus we opted for amniocentesis to confirm it. Again, a LONG, THIN, HOLLOW needle was inserted through my abdominal wall and into the sac of fluid around my baby to withdraw small amount of amniotic fluid. Well, you should know the result....

Lastly, the arrival of Shannon! Another tough procedure...We guessed she was too comfy inside the womb and refused to come out even after 41 weeks. Thus, my gynea arranged me to be admitted to the hospital for induction on 20th March 2005.
On 22nd March 2005, I was wheeled to the labor room at 10pm due to the unbearable achy pain around my back. My gynea arrived soon and my cervix was still only 2cm dilated! He burst the water bag; put me on drip (another way of induction) hoping that it will speed up the labor. The pain became more and more intolerable. My mind was blank and couldn't recall anything taught at the antenatal class and finally I relented for having epidural. The pain went away immediately and we were able to catch some sleep.
After 18 hrs, 2.5 dose of epidural, sniffing lots of "laughing gas", my cervix was only 7cm dilated!!! And I was having a fever thus the gynea decided that I needed a cesarean immediately. I still think that Daddy could have done a better job during my labor but instead... sigh...

I couldn't stop crying when I was pushed to the "operating theatre". At that moment, I couldn't imagine that my tummy will be "cut open" and I have to rely on others on everything after operation and Daddy was not allowed in the operation room. I started to shiver and my teeth couldn't stop chattering due to the side effect after the local anesthetic. Soon after, I heard my baby crying and the nurse carried and showed Shannon to me. I was relieved and finally smiled from the bottom of my heart...
Times flies. Shannon is already 27 months and everyone was asking me to prepare for the second kid. Although the procedure will not be as complicated as before, I still need to go thru some hormone injection to control my ovulation before the Embryo Transfer Procedure and not forgetting the Progestrone Injection. Frozen Embryos have to be thawed and not every embryos will survive after thawing, the quality will definitely not as good as the first, thus they will transfer 2-3 embryos to increase the success rate. Which means, there will be a high chance having more than one baby as well...
Frankly speaking, I am still not mentally prepared for the second child not mentioning the 3rd. I do not have much confidence to take care of 2 kids or more alone in France at this moment. Being pregnant and giving birth is still "considered" an "EASY" job for me!! But bringing up a child is not that simple. I am worried that Shannon will be neglected and whether we are financially stable for the 2nd or even 3rd one, etc etc

Daddy, have you really thought over twice and thrice on this issue? C'mon, you only use your mouth and I am the one who is going to get into trouble... Don't misunderstood, I am not complaining, you are a great father and hubby (paiseh, 80% only and u know why :P). You did help me with housework and spent time with Shannon. However, the time you "NEED" to spend and care for them can NEVER be more than me...