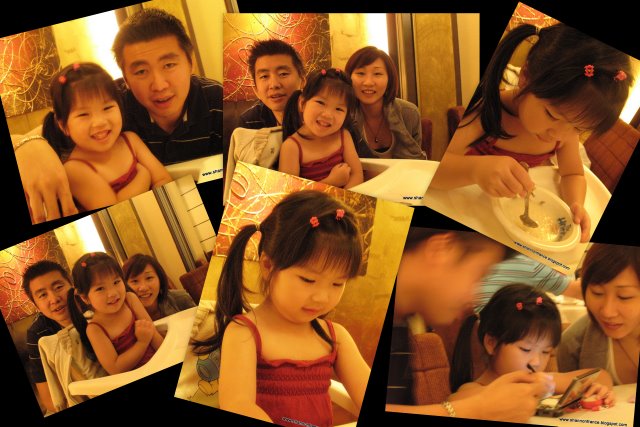 Last Saturday, Grandma Rosie brought us to Great World City for dim sum lunch with Grand Aunties, JekJek Jon (J's brother) & GF Anna and YiJun & GF Jasmine. JekJek Jon came back from Aussie to tighten his braces over the weekend and thus we got to meet up. JekJek Jon had lost some weight after fixing his braces.

Oh ya, Shannon loves to eat the Porridge with Century Egg & minced meat so that day she had one bowl after another. We spent about 2 - 2.5 hrs having our lunch as one of the grand auntie could only come after work. While waiting, Anna took out her Nintendo DSL for Shannon to play. Well, it really kept her STILL for hours. ;p




After lunch, we went visit The Cosmopolitan located at Kim Seng Road which Grandma Rosie recently bought.

The Cosmopolitan's outstanding architecture was simply breathtaking. It has seven-storey-high lobbies with lush foliage and water vistas surrounding it, creating the 'au natural' feel allows residents to embrace nature in this city. The facilities include a 40-metre lap pool, jacuzzi, children's pool, residents' lounge, foot reflexology path, gym and barbeque areas. Wahhh shiokshiok.

My MIL intends to stay there for half a year before renting the apartment to expatriates. Wah really shiokshiok.