Last Thursday, Clapotis held a farewell party for the kids who are leaving for Nursery this September which includes Shannon, Avril, Zavier and Damian. That day was really nice and sunny for photo-taking. I also realized that they have Apple Tree when we went into the garden of Clapotis but I guessed it was not ripe yet.




Agnes did some face painting for them too.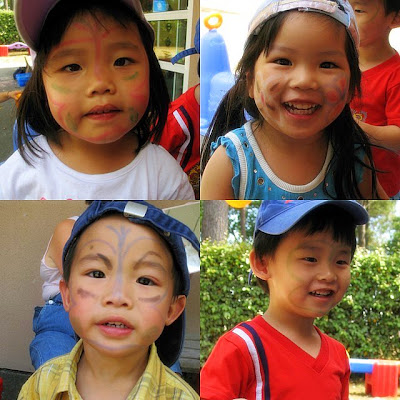 Crystal played the BIG soapy bubbles with the kids and they were happily chasing the bubbles around.



Then we had a small picnic around the garden serving some snacks and drinks. Some brought tarts and cakes while I prepared some O-Ni for the care-taker to try. I think Crystal and Agnes loves the O-Ni. After the picnic, I took some photos for Shannon and her caretakers to keep as a memory.
This is Principal, Crystal
This is her favourite caretaker , Agnes!!!
This is her second favourite Caretaker, Peggy.
This is Isabelle who joined Clapotis few months ago.
The kids continued their cycling and games after the snacks. After 15 minutes, we headed home.